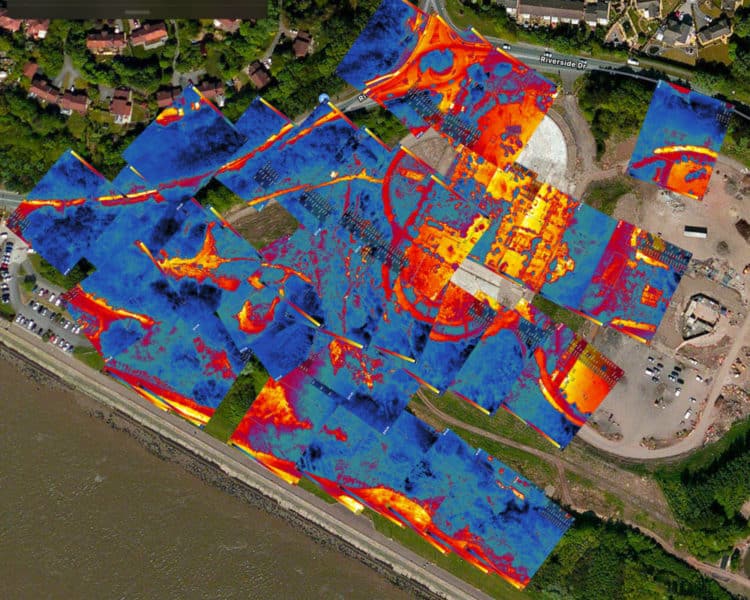 The Solid Waste Landfilling (SWL) holds a high risk of fire emergencies and represents hazards to people and to the environment mainly due to sub-products, odours and volatile and non-volatile compounds from the immense heat caused by decaying solid matter.
Using Drones fitted with new technology Thermal Imaging sensors to detect thermal emissions (looking for fire upfront and localised ignition points), chemical and physical parameters (CO, NOx, O3, CH4, air temperature, relative humidity, etc.). Moreover, the availability of viewpoints at different altitudes allow to enlarge the monitored area with full geometrical resolution using only one camera.
WHAT IS THERMAL IMAGING
Thermal imaging, or thermography, is the detection and measuring of radiation in the infrared spectrum being emitted from an object with the use of thermographic cameras. These infrared imaging systems produce thermal video or still images (thermograms) using colour differences to point out the various temperature points of an object from hot to cold levels.  Since the amount of radiation increases with higher temperatures, warm spots will stand out from colder spots on the thermal image. Thermal imaging cameras do not need light to operate, they can detect objects in total darkness or in daylight.
DJI ZANMUSE XT Radiometric 640
Thermal imaging from the air has never been as easy as it is with the DJI Zenmuse XT. By combining DJI's unrivalled expertise in gimbal technology and image transmission with the industry leading thermal imaging technology of FLIR, the Zenmuse XT is the ultimate solution for rapid and reliable aerial thermal imaging. Capture faster, with pinpoint precision, over large areas, then save them for analysis and reporting.
The camera on the DJI Zenmuse XT radiometric is developed by FLIR. It provides high-sensitivity (50mK) thermal imaging at 640/30 fps. This sensitivity provides accurate temperature measurements ideal for analytics and telemetry. Stabilised and controlled by a custom DJI gimbal, it provides smooth, clear imagery and 360 degrees of seamless rotational movement.
The Zenmuse XT Advanced Radiometry camera used by Drone Media Imaging provides twice the temperature measurement accuracy of the standard Zenmuse XT along with new analysis and recording functions. Simply tap any point in an on-screen image to view the temperature of that point or select an area to measure the average, highest and lowest temperatures as well as their location. The camera can also be calibrated to further increase temperature measurement precision by setting external parameters including background temperature, scene emissivity and more. The temperature of each pixel can be recorded for further processing and analysis.
Capture the magic of BBC Children in Need 2023 with stunning drone aerial views! Our expert team will skillfully navigate the skies, providing breathtaking footage that showcases the incredible work being done. From heartwarming stories to unforgettable moments, our drone shots will elevate your content and help raise awareness for this important cause.
Winterwood Farms in Maidstone can rely on IEC's thermal expert solar panel inspection services to ensure optimal performance during the winter months. Our team of professionals will thoroughly assess the panels, identifying any issues that may affect efficiency. With our comprehensive inspection, Winterwood Farms can maximise energy production and minimise potential downtime.
Exciting Dare Skywalk Edge attraction at Tottenham Hotspur Stadium, offering breathtaking views of London, taken from our BBC filming recce day.
Get a Quotation
Thermal Imaging Surveys with Drone Media Imaging
Drone Media Imaging are ready to deploy quickly through out the UK using the latest high resolution radiometric thermal imaging camera. Get in touch for a quote or contract service rate.
Get a Quotation