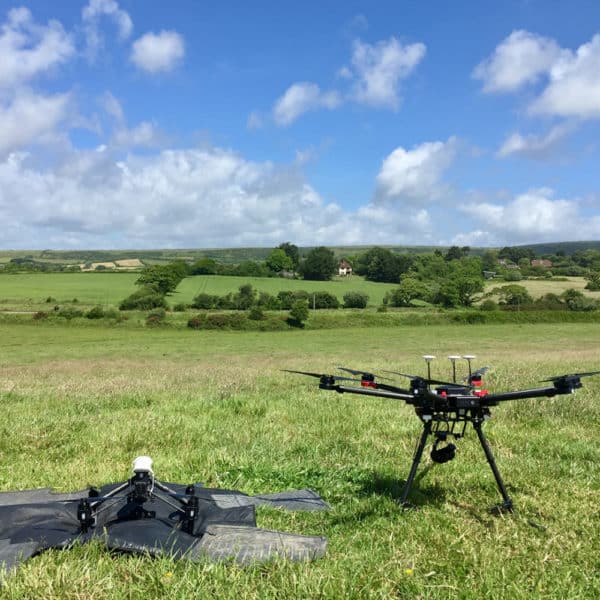 We were delighted by contacted by one of the BBC's flagship programmes – The One Show – and asked to provide aerial filming for a piece that they were creating about the Swanage Railway line.  The scene of many a childhood holiday, Swanage is about to be reconnected to Wareham after a multi-million investment in the line and their beautiful steam engines will be able to complete the entire journey instead of stopping in Norden as they currently do.
We didn't have a great deal of information on exactly what was required of us but we packed our drone fleet into the truck and made the short journey down to Dorset from our home near Gatwick (we travel all over the country so a trip to the South West was just a little hop for us).  Scouting a couple of locations from our desk research along the way, we met with the director of the piece and agreed a plan of action for the following day.
We arrived at Swanage Railway station bright and early for our safety briefing to receive our orange safety vests  – train operators prefer that you use orange where we normally wear yellow as yellow could be mistaken for a signal.  Then it was time to head off into countryside bathed in sunshine where a wonderfully helpful farmer had agreed to let us set up camp in his trackside field so we could film the steam train as it passed by.  I honestly don't think I've spent the morning in a more picturesque place, waiting for the gently puffing steam engine to make its journeys between Swanage and Corfe Castle.  It was a sight to behold as its steam billowed through that beautiful English country scene.
The trains run fairly regularly and so we had a number of opportunities to get different shots of it passing during the course of the morning.  Then it was time to pack up and head over the current end of the line – Norden Station – for some more filming.  Again, we were able to create a number of different shots – both trackside as it entered and left the station as well as of it heading into the distance with the stunning Corfe Castle as the backdrop.
A beautiful day's filming in a stunning location and we're very much looking forward to seeing how our footage becomes part of the finished piece on the BBC One Show very soon. Watch this space for showreel footage and some more technical details of the flights.